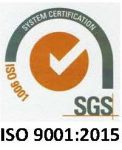 The treatment stage has been designed for oils with a water content of more than 5% and up to 25%. For instance, such oils are used in marine, motors, electrical transformers, machinery and other similar equipment. The following operation is used in the process:
Dewatering the oil to a maximum percent of 0.5%.
Removing suspended solids of size 10 to 50 microns.
Removing the light hydrocarbon (solvents) contaminated in the oil.
Reaching to a density between 0.890g/mm3 and 0.901g/mm3.
Improving the flash point of the oil.